29th summer recreation in Park Schlamau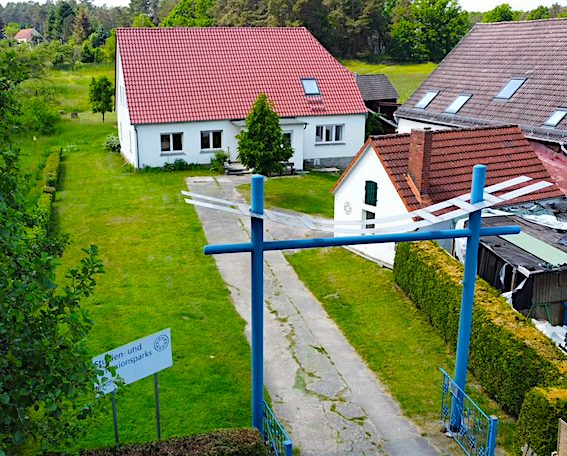 Sumercamp 02.08.2020 - 08.08.2021, Park Schlamau (Berlin, Germany)
There is the possibility to come alone or with family or friends. To spend the night in your own tent or in the house. Sleeping places in the house are limited by corona rules.
There are:
- the possibility to participate in or offer various activities (workshops, discussion groups, film evenings etc.). If you want to offer or suggest something, please contact us.
- Excursions in the surroundings ("Bauhaus" in Dessau, Wörlitzer Park, etc.) Walks, sightseeing or by train during the day to Berlin.
- For all those who would like to contribute to the creation and design of the park, there will be the opportunity to actively help with gardening, small and large construction work...
... and in any case a lot of opportunity to exchange projects, ideas, ...
Note: in case of changes due to the pandemic, the park can be closed at short notice.
Note: This year we want to organise the kitchen in teamwork. Any participation is welcome and appreciated.
Booking: https://forms.gle/RG918MDZKLrc46Jf6
Infos: michaelsteinbach@berlin.de
Invitation to a Meditation
The Ceremony for Wellbeing
In this extraordinary historical situation, many people have difficulties with their emotional life, their health, with their idea of the future and, and, and ....
That is why we would like to invite you to a virtual well-being ceremony with a subsequent personal exchange. With this ceremony we ask for a positive change in the current situation of people and the world.
When: Every day at 20.00h - Participation is free of charge.
Via Internet with picture & audio: You can participate with your PC, Mac, Linux, iOS or Android - click on the following link to join the skype meeting:
---
Reservation is important for planning overnight stays, buying food and picking up at Wiesenburg (Mark) station. Early and accurate registration makes everything easier. Thank you very much!
Reservation form »